BET names RIAA-certified 2x Platinum Artist and Jacksonville, FL native Nardo Wick as its BET Amplified artist for September 2022.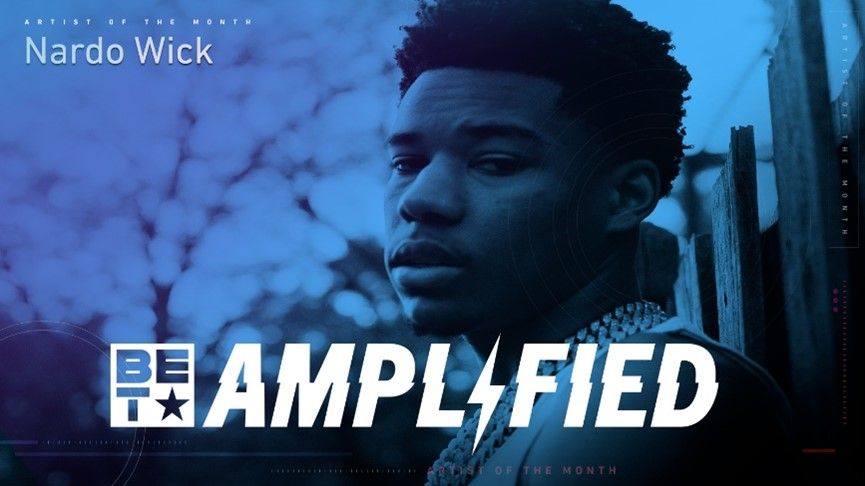 BET Amplified is BET Music's stamp of approval on the next big thing in music. Following the success of hit single "Who Want Smoke?" Nardo Wick's popularity has been steady and quick.  The new alternative version of this hit track featuring Lil Durk, 21 Savage and G Herbo, debuted at #17 on the Billboard Hot 100 chart and the video – currently at 138 million views and counting – trended on YouTube for weeks to follow and six months later is still sitting in the top 20 at #15.
The release of Who Is Nardo Wick? debuted in the top 20 (#19) on the Billboard 200 chart, making it the fifth largest debut of 2021. From being featured on DJ Khaled's new album God Did ("It Ain't Safe ft. Nardo Wick, Kodak Black") and the ELVIS (Original Motion Picture Soundtrack) "Product of the Ghetto" to landing a spot on "Judas And The Black Messiah: The Inspired" album soundtrack, his stardom is undoubtedly on the rise. This September, Nardo Wick can now also add BET Amplified Artist to his list of accolades. As a BET Amplified artist, Nardo Wick will receive BET Music's support across multiple BET campaigns and platforms, including BET, BET Her, BET Jams, BET Soul, BET.com, BET Socials, and BET's Official YouTube Page. 
About Nardo Wick: 
In a little over a year and a half, Nardo Wick exploded onto the rap scene and has begun to make a name for himself. It was just the start of 2021 when Florida upstart Nardo Wick unleashed his menacing track "Who Want Smoke?" onto the world and had it spread like wildfire. It was certified platinum before the album even dropped—quickly jumping to over two million streams on YouTube alone, as artists like Lil Durk, Future, and G Herbo started publicly praising the cut. Nardo has released a slew of successful tracks including "Shhh", "Pull Up" and "I Be Chillin" and recently "Dah Dah DahDah."  Nardo recently finished his first-ever tour, Who Is Nardo Wick?: The Tour and was inducted into the 2022 XXL Freshman Class. Currently, he is gearing up to hit the road again, this time as a guest on Lil Durk's The 7220 Deluxe Tour kicking off September 17. 
While Nardo is just getting started, he maintains his mission for himself, his music, and his listeners. "Be yourself," he humbly advises. "That's really it." His success story is proof alone to take his advice. "When I first got started, I knew I wanted to blow up," he adds. "And now I'm here." 
Previous BET Amplified artists include Babyface Ray, Blxst, Coi Leray, Doechii, Kalan.FrFr, Lehla Samia, Masego, Muni Long, Snoh Aalegra, Tems, Young Stunna, and many more! 
###