IN HIP HOP WE STAND!
BET ANNOUNCES EXPLOSIVE 
HIP HOP PROGRAMMING LINEUP 
TUESDAY, OCTOBER 5 WITH PREMIERES OF 
2021 "BET HIP HOP AWARDS" AND "RAP CITY '21"


"RAP CITY '21," HOSTED BY BIG TIGGER, RETURNS, 
TUESDAY AT 8 PM ET/PT ON BET AND BET HER 
FEATURING JERMAINE DUPRI, TOBE NWIGWE, 
FAT JOE, JEEZY, DJ DRAMA AND MANY MORE! 

THE 2021 "BET HIP HOP AWARDS" 
HOSTED BY COMEDIANS 85 SOUTH SHOW 
(KARLOUS MILLER, DC YOUNG FLY, AND CHICO BEAN) 
PREMIERES AT 9PM ET/PT ON BET, BET HER, MTV2 AND VH1 
MUSIC SUPERSTAR NELLY RECEIVES THE 
"I AM HIP HOP" AWARD
 
RAPPER AND PRODUCER TYLER, THE CREATOR HONORED AS THE FIRST-EVER 
"ROCK THE BELLS CULTURAL INFLUENCE AWARD" HONOREE

("I AM HIP HOP" HONOREE NELLY PERFORMS A MEDLEY OF GREATEST HITS AT 2021 "BET HIP HOP AWARDS / COURTESY OF BET)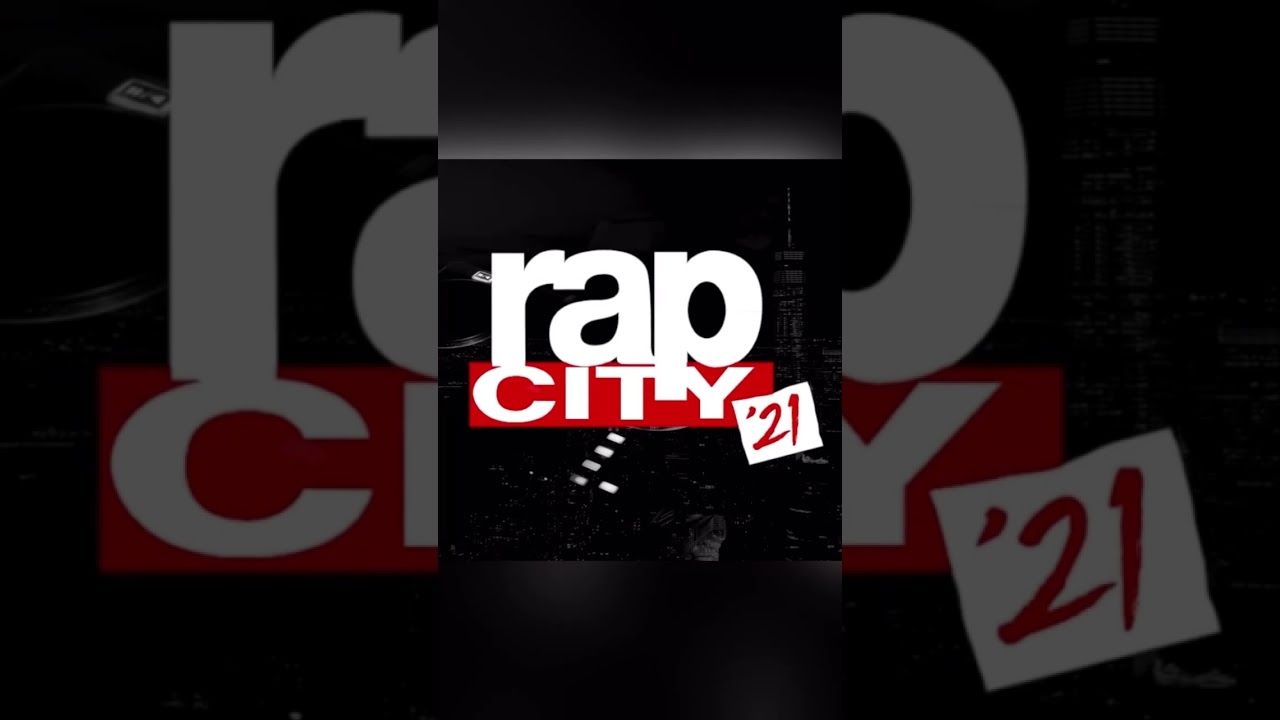 BET celebrates Hip Hop with two new specials on Tuesday, October 5: The 2021 "BET HIP HOP AWARDS" and "RAP CITY '21." The longest-running rap show on BET, "RAP CITY," returns for a one-hour special edition with legendary host Darian "Big Tigger" Morgan at 8 PM ET/PT on BET and BET Her. The 2021 "BET HIP HOP AWARDS" co-hosted by actors, hosts of the "85 South Show" podcast, and stars of Wild N' Out - comedy supergroup 85 South (Karlous Miller, DC Young Fly, and Chico Bean) - premieres at 9 PM ET/PT on BET, BET Her, MTV2 and VH1. 
Executive Produced and Hosted by Big Tigger, "Rap City '21" will celebrate the culture and feature exclusive interviews with Jermaine Dupri, Tobe Nwigwe, Fat Joe, Jeezy, DJ Drama, and more. The special will reveal never before seen booth appearances, "Rap City" memories. The highly anticipated return of the iconic music show will continue to pay homage to BET's commitment to Hip Hop and celebrate the stars of the culture's past, present and future. Making its debut in 1989, "Rap City," was the preeminent hip hop series dedicated to rap music videos, important cultural commentary, and interviews with the stars of the moment along with original freestyles from artists including Jay-Z, A Tribe Called Quest, LL Cool J, Kanye West, Eve, Ludacris, The Diplomats, Jadakiss, Trina, Common, Big Boi, Killer Mike, and many more!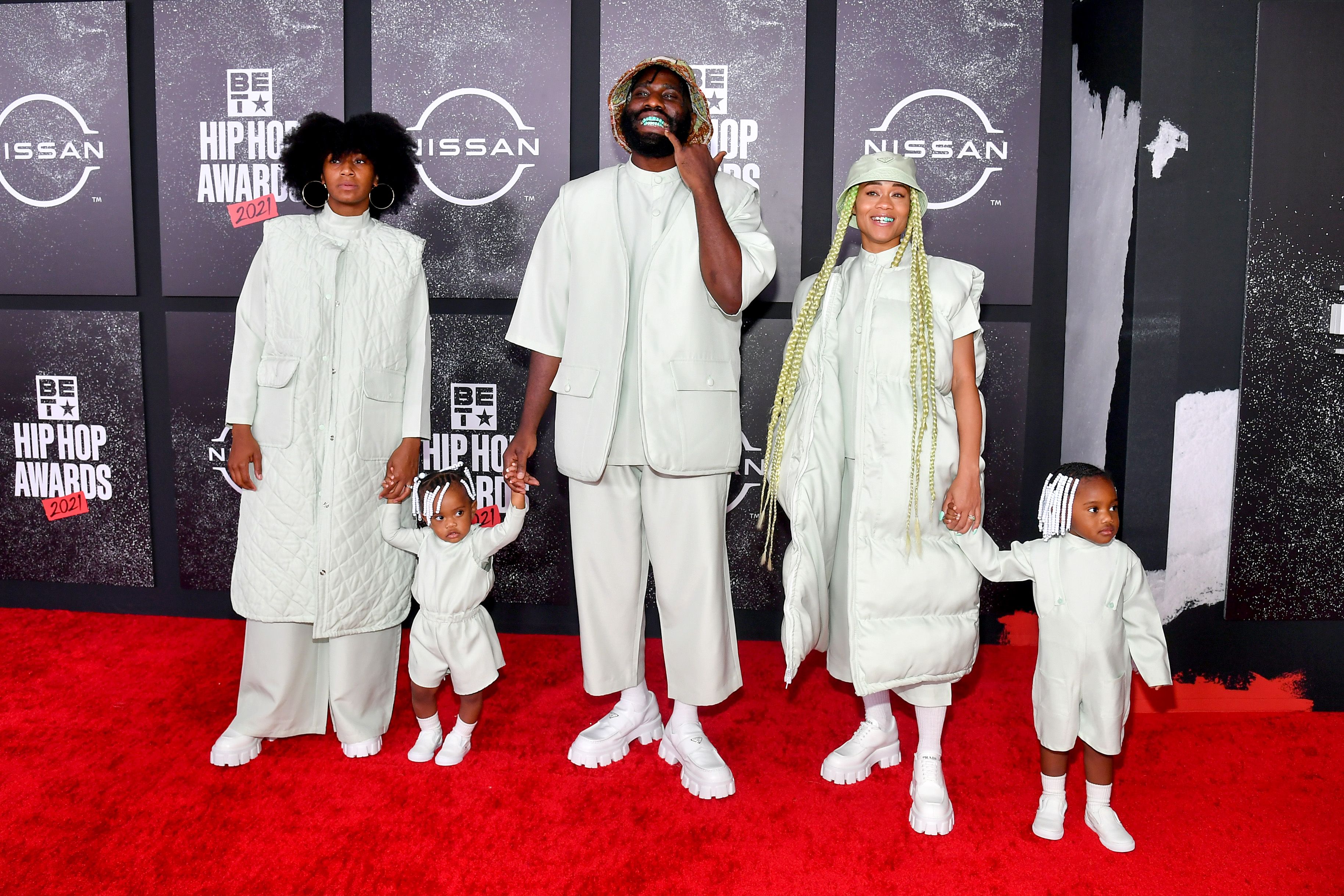 (ATLANTA, GEORGIA - OCTOBER 01: (L-R) LaNell Grant, Tobe Nwigwe and Martika Ivory Rogers attend the 2021 BET Hip Hop Awards at Cobb Energy Performing Arts Centre on October 01, 2021 in Atlanta, Georgia. (Photo by Paras Griffin/Getty Images for BET)
This year's "BET HIP HOP AWARDS" featured show stopping performances by Young Thug & Gunna, Latto, Bia featuring Lil Jon, Baby Keem, Tobe Nwigwe featuring Fat & Nell, and Isaiah Rashad featuring Doechii & Kal. Hip Hop powerhouses Trina, Remy Ma, and Rapsody presented some of the night's top honors.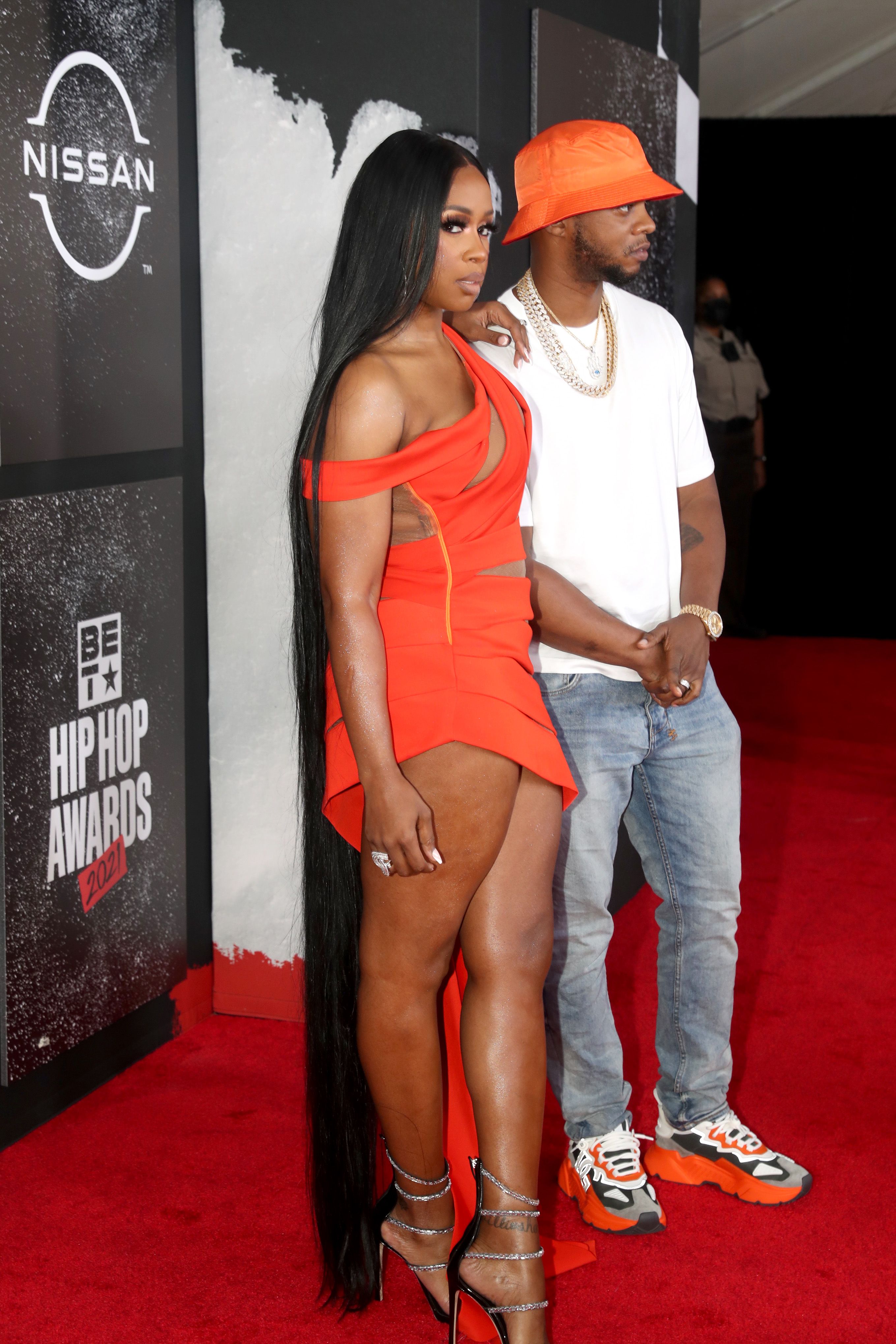 (ATLANTA, GEORGIA - OCTOBER 01: Remy Ma and Papoose attend the 2021 BET Hip Hop Awards at Cobb Energy Performing Arts Centre on October 01, 2021 in Atlanta, Georgia. (Photo by Paras Griffin/Getty Images for BET)
Rapper, entrepreneur, philanthropist, and actor Nelly received the 2021 "I Am Hip Hop" Award from legendary producer Jermaine Dupri before taking the stage to perform a medley of his greatest hits. Global entertainment icon, 2021 Rock and Roll Hall of Fame inductee, founder and CEO of Rock The Bells, LL COOL J presented the first-ever "Rock The Bells Cultural Influence Award" to Grammy-Award winning rapper, producer, entrepreneur and four-time "BET Hip Hop Awards" nominee TYLER, THE CREATOR.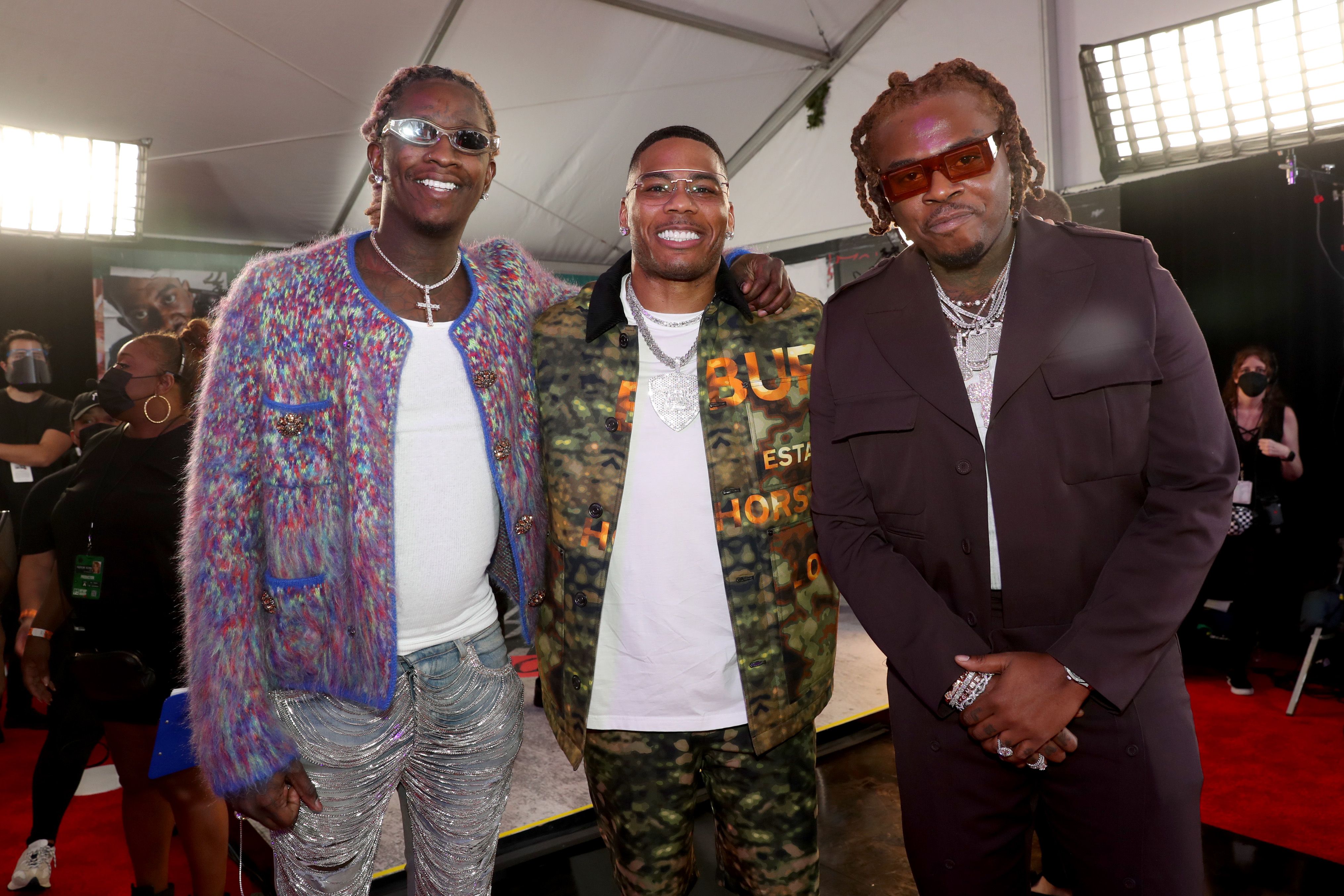 (ATLANTA, GEORGIA - OCTOBER 01: (L-R) Young Thug, Nelly, and Gunna attend the 2021 BET Hip Hop Awards at Cobb Energy Performing Arts Center on October 01, 2021 in Atlanta, Georgia. (Photo by Johnny Nunez/2021 BET Hip Hop Awards/Getty Images for BET)

Previously announced nominees include Cardi B, Lil Durk, and Megan Thee Stallion, leading the pack with nine nominations each, followed by Drake with an impressive eight nods. Tyler, The Creator, and Metro Boomin tie for third-most nominations securing four nods each. Other notable nominees include 21 Savage, DJ Khaled, J. Cole, and Pooh Shiesty, who received three each. Bia, Chris Brown, Doja Cat, Jay Z, Lil Nas X, Migos, Nicki Minaj, Roddy Ricch, Saweetie, Young Thug, and Yung Bleu received two nominations each. 
For more information about the "BET HIP HOP AWARDS", including the digital red carpet livestream powered by Bulldog DM, the latest news and updates, visit bet.com/hiphopawards and follow the conversation @BETAwards 
Connie Orlando, EVP Specials, Music Programming & Music Strategy will oversee the annual show, with Jamal Noisette, VP Specials, Music Programming & Music Strategy serving as Co-Executive Producer for BET. Jesse Collins, CEO of Jesse Collins Entertainment, to serve as Executive Producer of the 2021 "BET HIP HOP AWARDS'' along with Jesse Collins Entertainment's Jeannae Rouzan–Clay and Dionne Harmon. 
"Rap City '21" is executive produced by Darian "Big Tigger" Morgan, Red Summer TV and Sam Walker for BET. 
# # # 
ABOUT BET 
BET, a subsidiary of ViacomCBS Inc. (NASDAQ: VIACA, VIAC), is the nation's leading provider of quality entertainment, music, news and public affairs television programming for the African American audience. The primary BET channel is in 125 million households and can be seen in the United States, Canada, the Caribbean, the United Kingdom, sub-Saharan Africa and France. BET is the dominant African-American consumer brand with a diverse group of business extensions including BET+, the preeminent streaming service for the Black audience; BET.com, a leading Internet destination for Black entertainment, music, culture, and news; BET HER, a 24-hour entertainment network targeting the African-American Woman; BET Music Networks - BET Jams, BET Soul and BET Gospel; BET Home Entertainment; BET Live, BET's growing festival business; BET Mobile, which provides ringtones, games and video content for wireless devices; and BET International, which operates BET around the globe. 
ABOUT "BET HIP HOP AWARDS" 
BET "Hip Hop Awards" is an annual celebration that pays homage to a culture that changed the world while highlighting the best in hip hop music. Year after year, BET delivers the best in hip-hop for an unforgettable night of performances, cyphers and tributes honoring hip-hop legends that have and continue to make hip-hop culture a global force. 
ABOUT JESSE COLLINS ENTERTAINMENT 
Jesse Collins Entertainment (JCE) is a full-service television and film production company and has played an integral role in producing many of television's most memorable moments in music entertainment. The Emmy® nominated company has a multi-year overall agreement with ViacomCBS Cable Networks. On the theatrical film side, the company also has a first look on JCE's film development projects which could include Viacom's film entities such as Paramount Players. The award-winning and critically acclaimed television that JCE has produced includes miniseries—"The New Edition Story" and "The Bobby Brown Story;" scripted series—"American Soul" and "Real Husbands of Hollywood;" unscripted series – "Cardi Tries;" children's series—"Bookmarks: Celebrating Black Voices;" award shows—"BET Awards," "Black Girls Rock!," "BET Honors," "UNCF's An Evening of Stars," "BET Hip Hop Awards," "ABFF Honors" and "Soul Train Awards;" specials—"John Lewis: Celebrating A Hero," "Love & Happiness: An Obama Celebration," "Change Together: From The March On Washington To Today," "Stand Up for Heroes," "Dear Mama," "Amanda Seales: I Be Knowin'," "Def Comedy Jam 25" and "Leslie Jones: Time Machine;" as well as competition/game shows—"Sunday Best," "Hip Hop Squares," "Nashville Squares" and "Rhythm & Flow." Jesse Collins, founder and CEO of the company, is the executive producer of all programming. He is also a co-executive producer for the iconic Grammy Awards. Most recently, he was executive producer of The 2021 Pepsi Super Bowl Halftime Show and produced The 2021 Academy Awards. He will next executive produce the 2021 American Music Awards. Go to jessecollinsent.com for more information on the company.